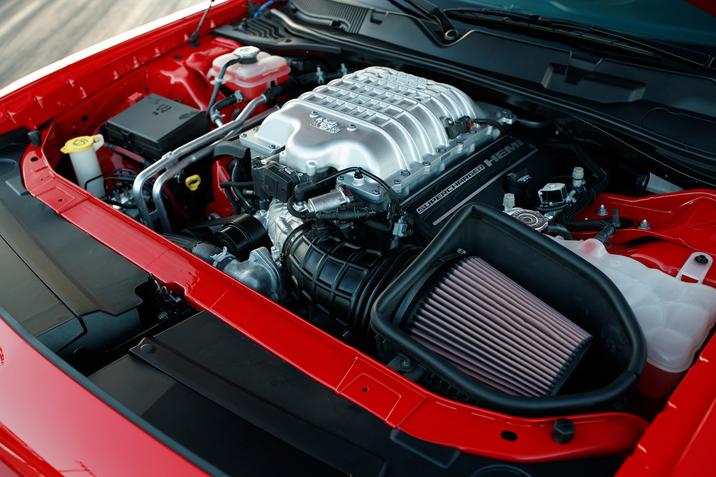 Popular Science's best of 'What's New for 2017' includes the SRT Power Chiller which is a key part of the 2018 Dodge Challenger SRT Demon.
The SRT Power Chiller is a first for a production car like the Dodge SRT Demon. It uses the Challenger's air conditioning refrigerant to further cool the air that enters the 6.2-liter HEMI V-8 cylinders. This in part helps the engine when it needs to obtain that 840 horsepower the Demon is famous for.
"Creating a street-legal machine that is powered by an engine with unrelenting power and torque, specifically engineered for the drag strip, yet street legal and meeting all emissions, pass-by noise and SRT durability standards demands outside-the-box thinking," said Chris Cowland, the Director of Advanced and SRT Powertain, FCA US in a statement. "The technologies that make lower-volume SRT products special can deliver significant benefits in alternative applications. For example, while denser intake air and high-octane fuels are part of the recipe that makes the Challenger SRT Demon a head-turner, they can be just important in meeting the challengers of improving fuel economy."
The engineers at SRT are always looking at new ways to accomplish goals to make Dodge one of the leading names in the performance vehicle world. It makes sense that they'd be honored for it and it is good to see that Popular Science is keenly aware that the innovations they're making in their vehicles should be ones that are highlighted for the world to see.

​If you need help with purchasing a new or used vehicle, be sure to contact us at Bayside Chrysler Jeep Dodge. If you need further assistance in finding financing for a new vehicle on bad credit, contact our financing department. We love to say yes, you're approved! Be sure to like Bayside CJD on Facebook, following on Twitter, or subscribing on YouTube.